NEWS: Feburary 2022
Our postal address has changed, to:
Diable Amoreux
Suite U101
201 Mount Street
Upper Burnie
Tasmania, 7320
Australia
NEWS: September 2021
Added some more live photos to the Pictures section.
New film clip in the works.
NEWS: May 2021
We shall be playing another show at Altar - Hobart, Tasmania - 31 July 2021. The other acts shall be Striborg and Bedlam Walls.
NEWS: February 2021
DA will be playing a rare show at Alter, Hobart 26 March 2021 with Striborg, The Native Cats, and Bedlam Walls.
Click to order tickets.
Also, a new film clip, for Flowers for Orlok.
NEWS: October 2019
Our 2008 split with Ego Death and our 2007 goth rock album By Any Other Sunwheel are now available to be downloaded from our bandcamp page.
As an 'introductory offer' By Any Other Name Sunwheel will be free to download for the next few days.
The album Hearts in the Dark and our half of the split 7" with Hermann's Horn will be up in the next few weeks.
NEWS: March 2019
Diable Amoreux are playing a show, 20 March 2019 at the Brisbane Hotel, Hobart Tasmania. See link below:
https://www.facebook.com/events/329512684583318
The release date for the new album is now 15 April 2019.
NEWS: FEBURARY 2019
Finally! The new album A Good Day for a Hanging is set to be released 15 April 2019.
In a deluxe CD gatefold digipak with artwork by Bill Dean and Phaedra. Will also be available from bancamp.
Track listing:
1 If I Were the Moon, I Know Where I Would Fall Down
2 Black Blood
3 Night of the Hanging
4 The Changeling on Gallows Hill
5 The World Owes us Everything
6 The Coming of Satan
7 The Hanging of the Woodcutter
8 Flowers for Orlok
9 Sarah
10 Step on Cracks
11 A Privilege of the Dying
12 Azra
13 Leaving Gallows Hill
NEWS: JULY 2017
A new DIABLE AMOREUX album Ex Nihilo will be released Monday 24 July 2017 (Australia time).
It is a nine track dark ambient album composed around the 'theme' of evolution.
Digital download only (unless anyone wants to release it on vinyl - get in touch) through Bandcamp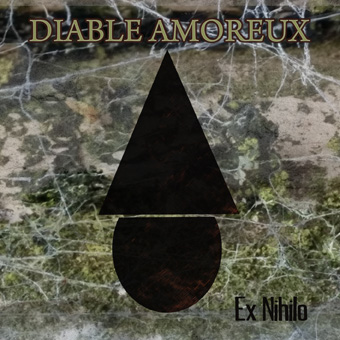 In other news, we have started to upload some of the DA back catalogue to the bandcamp site. So far we have put up a re-mastered version of I Am But One . More to follow…
Also, after many years of procrastination and re-recording, the Gnomic folk album A Good Day for a Hanging looks like it will finally see the light of day – mastering and art work to begin soon – and should hopefully be out by the end of the year as a digipack.
NEWS: MAY 2016
DIABLE AMOREUX shall be playing next month at one of the 'Grimoire' evenings at the Brisbane Hotel as part of the DARK MOFO festival.
11 June 2016 - The Brisbane Hotel - Hobart, Tasmania
NEWS: JUNE 2015
Playing another show 9 September at The Brisbane Hotel, Hobart, supporting Black Claw from Canada.
This show's lineup will include Sin-Nanna of Striborg on drums and dark noise.
https://blackclaw.bandcamp.com
NEWS: NOVEMBER 2014
Convergence - a compilation of Tasmanian experimental music - Vol. 2
was released today, featuring a new track by Diable Amoreux.
Download the album from: Rough Skies Records
NEWS: OCTOBER 2014
New Diable Amoreux Algiz t-shirts available. XL, L, M, and S. $20AUS post payed worldwide.
NEWS: APRIL 2014
Diable Amoreux will be playing a rare live show at the MONA market in Hobart, Tasmania - 19th April @ 3.45PM.
NEWS: OCTOBER 2012
Diable Amoreux now has a Band Camp page where you can go to listen and buy mp3s etc.

http://diableamoreux.bandcamp.com
In other news, work continues on an upcoming DVD, which will feature film clips, live performances and lots of other bits and pieces.
NEWS: FEBRUARY 2012
'The World Owes us Everything' single is up for download on the splash page.
NEWS: JANUARY 2012
New photos up from the Sydney show last year.
Currently working on a new single The World Owes Us Everything from the upcoming album A Good Day for a Hanging. It will be available as a free download.
Some shows coming up this year, to be announced.
NEWS: MARCH 2011
The new album Hearts in the Dark will be released 18th April!

New interview up from Hallowed Ground Zine.
First review for Winter Thoughts 7" from www.darkentries.be
NEWS: FEBUARY 2011
Diable Amoreux is delighted to announce their first vinyl release!
The Diable Amoreux / Hermann's Horn split 7" in now available for $13, $17 rest of world.
The new CD Heart's in the Dark is due for release in the next few months.
Have a look at the promo film clip The Wedding Dress on www.youtube.com
Or go to the Downloads section of this site.
NEWS: JULY 2010
The big news is that DA will be playing its first public performance, 14 September 2010, 7PM, at the Dan O'Connell Hotel, 225 Canning St., Carlton, Melbourne, Australia.
Also, we would like to draw your attention to a great Dark Folk etc. distro we have come across:
Have a look if you think you might be interested...
NEWS: January 2010
First off, as you may have noticed, Diable Amoreux has a new website.
Also the new album, Zwergen, will be released 11 JAN 2010. One of the tracks is up on www.myspace.com/diableamoreux
And new Zwergen T-shirts are available. Go here to have a look.
NEWS: June 2009
Smell the Stench ( www.smellthestench.net ) has just released the new Diable Amoreux mini-album CD-R Cruely Kind. It can be obtained from them (most likely through trade) or through this site for $10 (AUS), 7 (EURO), 8 (US) Post Payed, trade, or any other dastardly offer you may care to make.
Nearing completion are several other albums, chiefly of which is the full-length pressed CD Zwergen. This is hoped to be out before the end of the year and features performances by members of Beastianity, Nos, The Auralees / Nux Vomica, Hail Satan and the Insane Fuckers, and The Yollering Woods.


NEWS: October 2008
Diable Amoreux's first ever split (with Greece's Ego Death) has now been released through Sewer records. www.myspace.com/sewer_records
Also, a new interview with Devil May Care Magazine.