A Good Day for a Hanging
OUT NOW
To order click here.
NEW ALGIZ T-SHIRT!
| | |
| --- | --- |
| Front | Back |
$20AUS Post payed worldwide
X-large, large, and medium
FREE DOWNLOAD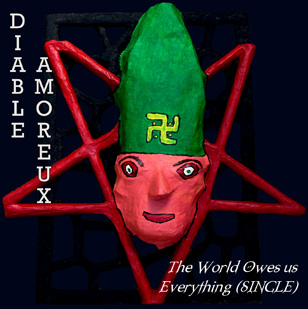 New single The World Owes us Everything
from the upcoming album A Good Day for a Hanging.
FREE DOWNLOAD!
---
"An interesting diversion." - Douglas P (Death in June)
Ringstone Round voted "Shock of the Year" 2005 by www.occidentalcongress.com
"Diable Amoreux are … subtle and understand that without the silly the truly transcendental cannot be achieved." - The Wizard of New Zealand
Diable Amoreux started in 1998 as a one-man studio project by a person known only as 7. Starting as a more 'ambient' band, D.A. has evolved through many styles to the current release with a far more 'apocalyptic folk' sound. As a rough guide, if you were to mix Diamanda Galás, Current 93, Psychic TV, Devil Doll, and Sol Invictus together, then you would have Diable Amoreux.